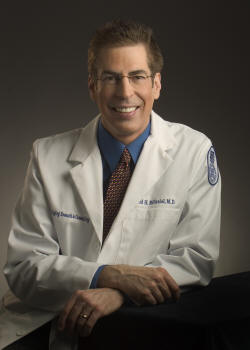 David H. McDaniel, M.D. FAAD
Anti-Aging Research
The Institute of Anti-Aging Research specializes in research related to skin rejuvenation aging and associated diseases as well as anti-aging therapies, aging, longevity and the role of antioxidants in preventing aging of the skin and body. We offer a wide range of services from consulting on the design and implementation of FDA clinical studies to basic laboratory research.
We specialize in digital photography and non-invasive imaging including UV and 3-D photography and other innovative new scientific measurements. We are experienced in both traditional and groundbreaking types of clinical studies for investigational drugs, devices and also comsmetics and cosmeceuticals. Our facility is located in Virginia Beach, Virginia. We have both clinical and laboratory research facilities.
Our laboratory research program focuses on molecular biology and immunohistochemical processes including analysis of human gene expression in both cell culture and in actual human tissue. Gene expression analysis is an area of special interest. We are experienced with growing cells in monolayer and also synthetic skin equivalents for a variety of scientific testing and analysis.
Our clinical research program encompasses a broad range of disciplines including skin, dermatology, and cosmetic surgery as well as in various aging and anti-aging issues. Areas of special interest and expertise include anti-oxidants and therapies for wrinkles, stretch marks, cellulite, hair growth, hair reduction, ethnic skin, and non-surgical skin rejuvenation treatments.
The Institute of Anti-Aging Research also specializes in researching the effects of low intensity LED light and high intensity energy sources (lasers, light, Rf, etc.) on living cells in culture and in clinical trials.
Dr. McDaniel and our research team helped to develop and define the contemporary theory of LED photomodulation as well as invent the GentleWaves™ LED Photomodulation device. Our research and clinical photography has appeared in many meetings and publications.
Dr. McDaniel also has a clinical practice for cosmetic dermatology and serves as medical director of the David H. McDaniel Laser & Cosmetic Center, Co-directory Hampton University Skin of Color Research Institute, Adjunct Professor in the School of Science, Hampton University, Assistant Professor of Clinical Dermatology, Eastern Virginia Medical School.
Areas of Special Interest and Expertise
<![if !supportLists]> o <![endif]>Anti-Aging
<![if !supportLists]> o <![endif]>Cosmetics, Cosmeceuticals, and Nutraceuticals
<![if !supportLists]> o <![endif]>Antioxidants
<![if !supportLists]> o <![endif]>Photo Aging
<![if !supportLists]> o <![endif]>Ethnic Skin
<![if !supportLists]> o <![endif]>Longevity and life span extension
<![if !supportLists]> o <![endif]>Gene Expression
o <![endif]> Laser / Light Therapies
<![if !supportLists]> o <![endif]> LED Photomodulation